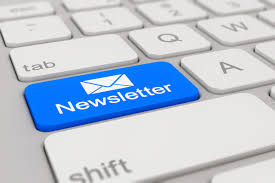 If you read my last post, you have started to think about how email marketing can increase your agencies insurance business. Now, let's take that a step further and be more specific. A newsletter sent as part of your email marketing strategy is a great way to deliver content directly to your inbound consumer calling customers and continues to keep means of communication open. So how do you get started and what should you know before sending your first newsletter? Here are some tips.
Content
No one wants to waste their time with uninteresting and useless newsletters. So, before starting each newsletter, really sit down and ask yourself, does it fit these guidelines, recommended by agencyupdates.com;
Is it interesting?
Is it useful?
Is it worth sharing, both on your end and the customers?
Will your clients be excited to receive it?
If not, it's time to get creative. Ask your staff, maybe they have been asked questions by clients that are worth sharing. Maybe your agency has started volunteering within the community, maybe you have a new promotion going on that your clients will love. Regardless of what it is make sure it is interesting.
Keep it Brief
In addition to being interesting, another good thing to remember about newsletters, is keep them brief. You don't want your customers spending all their time reading your newsletter, you want them to click on your socials, visit your website, pick up the phone and call you or send you an email question. The average person spends 51 second reading a newsletter. 51 seconds!!! How do you make sure they see everything you need them to see in that 51 seconds? Verticalresponse.com, suggests using content blocks, brief blurbs, snapshots, takeaways, bullet points, and call to action buttons. This way your readers stay focused for just enough time to see what you need them to see, but will leave them eager to explore your call-to-actions.
With those call-to-actions make sure you use them correctly. After each content block, there better be a "click here to see the video," "Like us on Facebook for special auto insurance offers," "click here to read our blog, on how to save on first time driver insurance." If you are not using your call to actions well, how do you expect your clients to want to click on them?
Don't be a Flake
Consistency with your newsletter is incredibly important in building trust and relationships with current and new clients. According to the Nielsen Norman Group, 69% of users look forward to receiving at least one newsletter, and most users said a newsletter had become part of their routine. Nohasselnewsletters.com, recommends thinking of newsletter consistency like a magazine subscription and junk mail.  Magazines arrive on a consistent monthly basis while junk mail arrives sporadically.  You don't want your newsletter to be thought of as junk mail.
So how do you figure out the right consistency for you? You will need to find the right balance. Too frequent could work against you and too sporadic, your customers will think you are only contacting them to sell something, i.e. losing trust. The right amount of newsletters is what works best for your business. Another great way to find out how often customers want to see your newsletter is by including a survey with one of your early newsletters and see what your clients have to say. Once you have figured out what they want and what works best for you and your agents, let your customers know a predictable newsletter timeline.
In the end, a newsletter can only help your agency grow and who doesn't want more growth? Do you have the perfect template for an insurance newsletter? If so let us know in the comments.