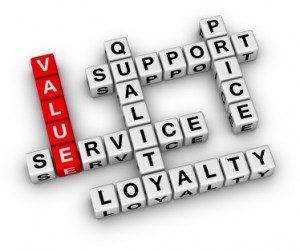 Last post, we talked about how selling on priceis not as useful as you had hoped for your insurance agency. Instead of selling on price, I suggested selling on value, but how do you do that and what does value really mean?
Value is defined as the importance or usefulness of something. Using this definition and not selling on price, what area of importance or something of use are you providing your inbound calling customers? One simple way you can add value to your agency is through customer communication. In a LinkedIn post, Michael Jans, Executive Chair of Agency Revolution wrote, value must be added to the retail level of your insurance sales and that the independent agent will benefit from relationships. Increased and thorough customer communication can also be leveraged. With today's communication technology, it has become much easier and costs a fraction of what additional payroll, i.e. reducing price, would cost. Jans is obviously correct, today's insurance customer feels insurers see them more as a number and not as a person, translating into lack of loyalty to the insurer and higher transferal rates. An Insurancejournal.com survey, found in the past two years, 37 percent of customers have switched insurers, which is up 13 percent from the last few years. High transferal rates is not what you want to see from your customers. You want them to be happy and want to renew, which is why it's so important to constantly reach out and communicate with them, create your value through communication and relationships.
What other types of value are your insurance customers looking for? Keynote speaker, trainer and insurance coach, Brent M. Kelly, says why not just ask them? In this case, he does not recommend sending a survey, but instead using the many other forms of communication; call, tweet, email or hold a luncheon for your customers, ask them what they truly are looking for. Kelly recommends specifically;
Ask how you can best help them
Listen intently
Respond accordingly
Solve their problems
Kelly does caution, of course some customers will only want lower pricing and that's fine, but the majority will not. Once you know what your customers are looking for, build on that value to rise out of the insurance wading pool and find what values set your agency apart from the rest.
What values does your agency have for its customers? Let us know in the comments.