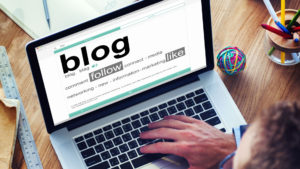 We talk a lot about why it's so important for your insurance business to communicate with your inbound calling clients. We have listed many ways to reach out to them, but one we haven't really touched on is a blog. Adding a blog to your insurance website provides a great resource for your customers and a way to share information about what is going on within your agency. It also provides content and click-backs for your newsletter.
A blog is not only a great way to communicate with your clients, it's also a good way to advertise without spending a lot of money. A post on Laternco.com sums up the reason for a blog best, stating,
"…blog content is there when consumers need it: when they have questions, need clarification, seek guidance, or ultimately make decisions on their carriers. Your website must be prepared, just as you ask your policyholders to be. These insurance blog ideas will get you headed in the right direction."
Like Lantern said, a blog is a great informational resource for your clients. When customers have questions, you don't want them going to competitor's websites to find answers. So why not take their advice, and get your website prepared for what you feel your customers need to know.
Having an insurance blog will also be useful for your social media content. If you produce a blog at leastonce a week, which I highly recommend, that blog post gives you automatic Twitter and Facebook posts. Having your posts on your social media will increase Likes, Shares and can start conversations. If you are really savvy, you could save those blog posts and when you send out your quarterly newsletter add your posts to the newsletter with any other important company happenings. This will provide your content to clients who haven't read your blog, and refresh the content for those who have.
A final thought about blogs and why your insurance agency needs one, is because it humanizes your insurance brand. Starkmedia.com writes,
"A blog gives your website viewers the opportunity to get to know you on a deeper, more personal level. This is a space where you can have a little more fun with your brand, share your opinions, and provide a behind the scenes look into your company."
We talk all the time about how insurance customers don't like feeling like a commodity. By speaking to them in a more fun way and humanizing your brand through your blog, you become a more trusted insurance brand. And trust and relationships is incredibly important to your insurance clients.
Next post we'll take this idea a step further and explore some insurance blog ideas.