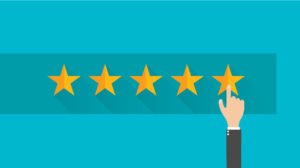 The internet is a huge part of society, and as we move further into the future the way people communicate and share information has moved from literal word of mouth to social media shares and chatter and online review sites. Online reviews are not only for restaurants and products they can also serve as an important part of your insurance business. Your inbound calling customers are using them and writing them.
Currently online reviews are the way people decide if they want to buy a product, work with a company or eat at a certain establishment. These reviews give people a sense of trust due to antidotal evidence from their online communities. It is this sense of trust that could help or hinder your business. Reviewtrackers.com, writes about a report from Concerto Marketing Group and Research, which found 83 percent of customers would recommend a company or provider they trusted to others. In the past, I have written how important recommendations are and how surveyingyour customer to find out how you are doing can help grow your business, but another aspect of that is to go online and see what these same customers are saying about your agency to their online communities.
According to a 2014 survey by Reviewtraker.com, 68 percent of people are unlikely to decide on an insurer with no online reviews. And in another survey by Raconteur.net found, in 2016, say managers who felt bad reviews had the power to make or break their business rose from 17 to 21 percent in the last two years, with more than half affected by negative reviews in the last 12 months. Another 52 percent experienced a commercial slump directly because of unfavorable comments.
So, how do you gain positive online reviews and manage the not so positive ones? An easy way would be to ask your happy customers to write a review. When you do you 6-month or yearly checki-in or in your newsletters, ask them to write your agency a review. To make it even easier, include a link to the review site. Reach out to your customers via social media for reviews. Incentivized reviews are a great tool. Customers don't like to do something for nothing, offer a coffee card or other small incentive for a review. Unfortunately, there is not a lot you can do for bad reviews. If the review is false or untrue you can contact the site and they may take it down if you have proof. Otherwise, many businesses will publicly reach out through the review site, to customers, but please remember to keep a professional tone when doing so. Americanexpress.com says, you can reach out privately, but other online readers will not hear your side of the story. Remember online reviews are not set in stone and can always be updated by the reviewer, which is why you should always reach out, even if the review is good. Customers like care and communication from their insurance company and by your reaching out, bad or good, it shows you care and want to help anyway you can.