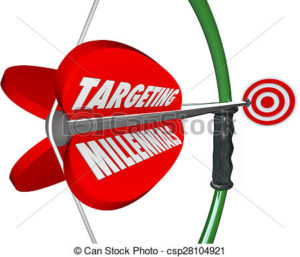 Millennials, regardless of how you feel about them, they are here to stay and have now surpassed Baby Boomers as the largest living generation ever. They have steady jobs, confidence, and understand and live their lives through being connected. Like the rest of us, they still need auto insurance. But how do you tap into the promotional skeptical group? Here are three of my top tips.
Get technologically connected
Millennials don't like their time wasted and they especially don't like to answer the phone, but they do love staying connected. So, connect with them on their level, because it's not about you and how you want to connect it's about them. 63% of Millennials stay in touch with their favorite brands through social media. In my post, Our Three Favorite Marketing Tips, my first tip was social media, learn to use it and use it well. Millennials are good about seeing through a charade, and if they don't trust you they move on. You can't let them move on, by 2025 they are estimated to make up 75% of the Global Market, and regardless of them needing insurance for their moped, electrically powered car or their vintage motorcycle, it's still auto insurance and they still need it.
Connect Authentically and build a relationship
As I said, Millennials can spot a charade from a mile away. They are a generation that grew up being bombarded by advertising, thus the skepticism of promotional material of any kind. It is due to this need for authenticity that makes Millennials more likely to listen to their friends than to be affected by marketing or public relations material. However, they do like to build personal relationships, even if it's only through an email or a Twitter Direct Message. This can easily be achieved through consumer initiated inbound calls. After all, Millennials are already on their devices looking for auto insurance and if they call and the call goes directly to you, here's your chance to create a relationship. Once initial phone conversation is had, make sure you find the best way to continue to communicate with them. Remember, make sure to be authentic.
Stand for Something
The best way to gain Millennials business is by standing for something. What are your core values, how do you help your community or city, what sets you apart from other auto insurance agencies? They could go to any number of places for auto insurance, but as I said, they like authenticity. What makes your agency tick? What do you care about?
In my post, Ways to Generate Your Own Leads, I mentioned reaching out to the community through events or volunteering. Millennials really care about the world around them and want to be part of helping the greater good. If they know you are helping the community, and stand for something, they are more apt to want to work with you for their insurance needs now and probably in the future.
So, you see, Millennials are not that different, they are not the bad guy. They need and want the same things you and I do, they just grew up in a very different world than those before them. Reach and out to them and see what happens. Change is a really good thing and a new approach often times will help your business in the long run.