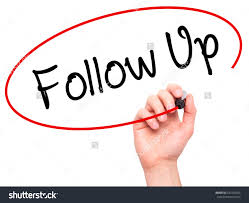 Have you ever started a conversation with a client, and you feel like you have made good headway and then before you know it you never hear from them again? Well, that is how clients feel when you don't follow up on a direct connect call or warm lead. The customer doesn't know what happens and moves on to an agent that returns communication.
As I said in other posts, you MUST follow up with your clients. Staying in touch is probably one of the more important aspects of a lead or call. You need to build trust and a relationship with your customer, especially if you want to be there for their future insurance needs. You've seen the commercials, you know what your competitors are doing, there are so many choices from the big box one-stop-shops to the local independent agencies, by following up you are making sure you clients stay with YOU.
A follow up, not just the communication after they have reached out to you is the connection after you get the lead or direct connect call. Lifeinsuranceleads.com recommends remembering the first follow up is not to make a sale, but instead to let them know you are available for help and any questions. The second connection will be where the lines of communication have opened and talk so a sale can begin. Another good suggestion from internetce.com, is to do all of your follow ups at the end of the week. Suggestion, Friday afternoon, when you have finished your paperwork on new sales and are not quite ready to tackle next week. They also suggest checking in at least once every three months. This is enough time to let the customer know you are still there for them, but not too annoying.
Let's be real, a follow up doesn't even have to be only a phone call or email. With the technology of today, send them a text, shoot them a tweet, send them a Facebook message, even a handwritten note. The main point is, however you do it, be like Nike and just do it.